Navigation
Navigate the Dialogue Builder
To move around a dialogue, simply click in the empty area and drag around.
To zoom in/out, you can use CTRL / CMD + scroll or the zoom buttons in the top right corner

.
Drawers
There are two different drawers: Dialogue Settings and Message Block Details.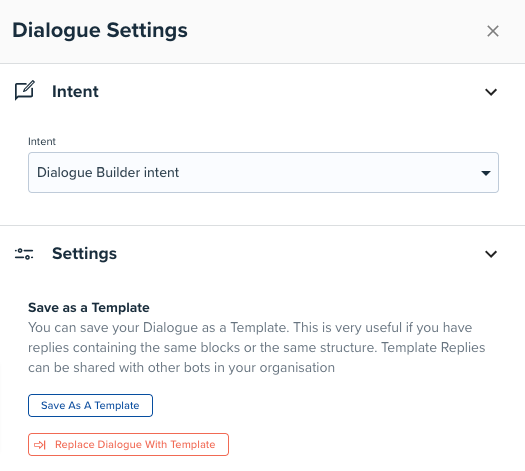 Dialogue Settings: Can be accessed by clicking

in the top right corner. This is where Detail Page and Dialogue Settings (for saving or replacing a dialogue from a template) are.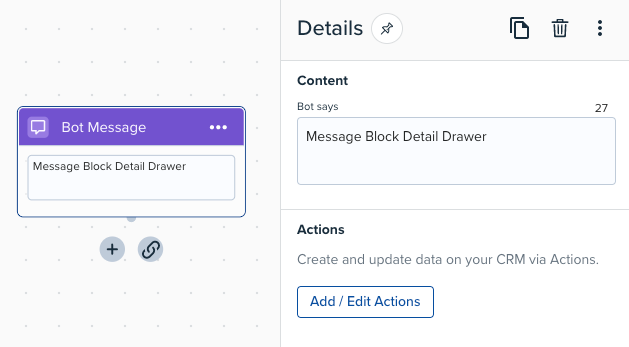 Details: Accessed by clicking the message block you want to view details of. This drawer can be pinged by clicking

.
Character count of each message can be viewed in the right drawer.
You can add or edit Actions to the message block here as well. Added actions can be viewed easily under each block.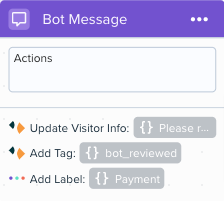 Navigate to other replies / between dialogues
You can now easily switch between different replies with the dropdown menu above.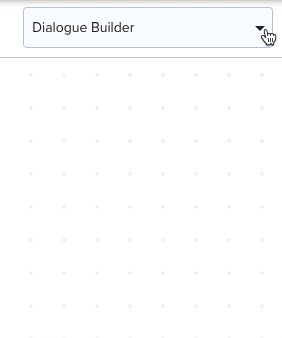 Edit dialogues
Add new message blocks
Click ➕, select the type of message you want to add from the left side bar. There are five options to choose from: Bot Message, Visitor Message, API Integration, Link to another Reply, Escalation.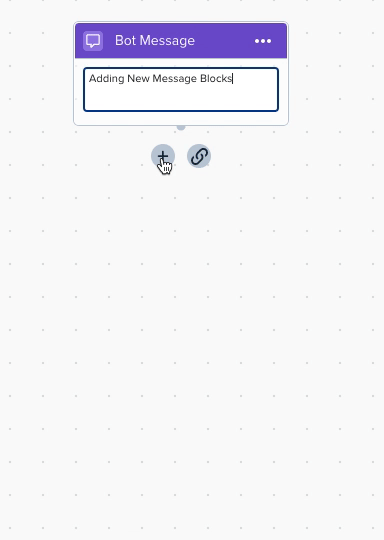 ❗

API integration only applies if you have integration implemented. Please speak with your Customer Success Manager if you have any questions.
Insert message blocks
You can add message blocks between two existing ones.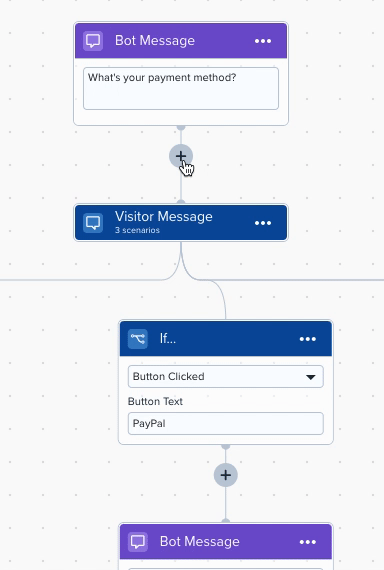 ❗️Note that it's not possible to have two consecutive visitor messages.
Copy, delete, and move blocks
Click the three dots of message block to copy, delete, or move it and/or its branches.

This can also be done in the drawer on the right.

❗

You can only copy and/or move message blocks to the end of a dialogue flow. To insert messages in the middle of a dialogue flow, see Inserting Message Blocks.
Convert message blocks
A bot message block can be converted to an escalation block, and vice versa.

Link message blocks
To link message blocks, first click

, then the message block that you want to link to.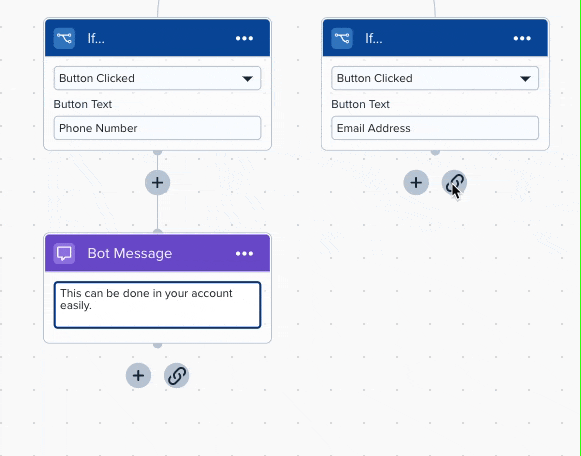 Note that linking message bocks need to follow the rule of no consecutive visitor messages.
Link to another reply
To link to another reply, click

, then select

.
The message block will then turn into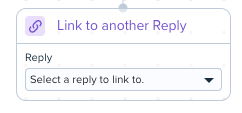 for you to select the reply you want to link to.
Visitor messages
Visitor messages are regarded as
scenarios
. Each scenario can be defined with
conditions
, such as:
Button Clicked - when user clicks a button to continue a dialogue flow
Link Clicked - when user clicks a hyperlinked button
Intent Predicted - when an intent is predicted
Entity Recognized - when a content entity is recognized
Free text Written - when user writes anything but what you're looking for. Often used as fallback. This should always be kept at the furthest right
In Dialogue Builder, one single Visitor Scenario Message Block can contain multiple conditions that should be handled in the same way. This helps you reduce the clutter and make the dialogue more compact.
Here are two examples:
Example 1 - Yes/No Scenarios
The bot asks "Have you got the confirmation email?". We have two scenarios: visitor responds "yes" and "no".
For each scenario, we have three conditions:
Button clicked: "Yes"

Intent predicted: "Affirmative"

Entity Recognized: "Affirmative"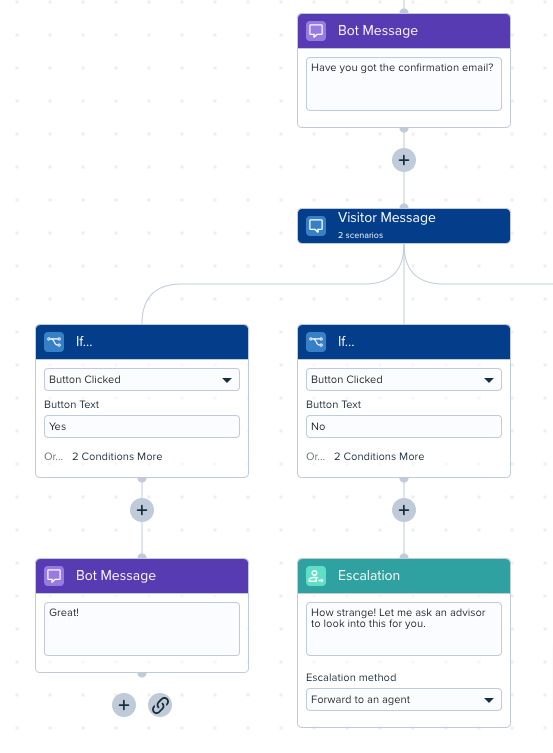 You can add conditions in the drawer on the right. It looks like this: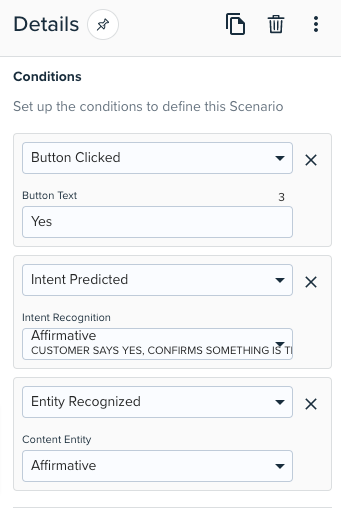 Example 2 - A variety of scenarios
Bot asks "What's your payment method?" and there are a three scenarios in this example: Credit/Debit Card, PayPal, Bank Transfer.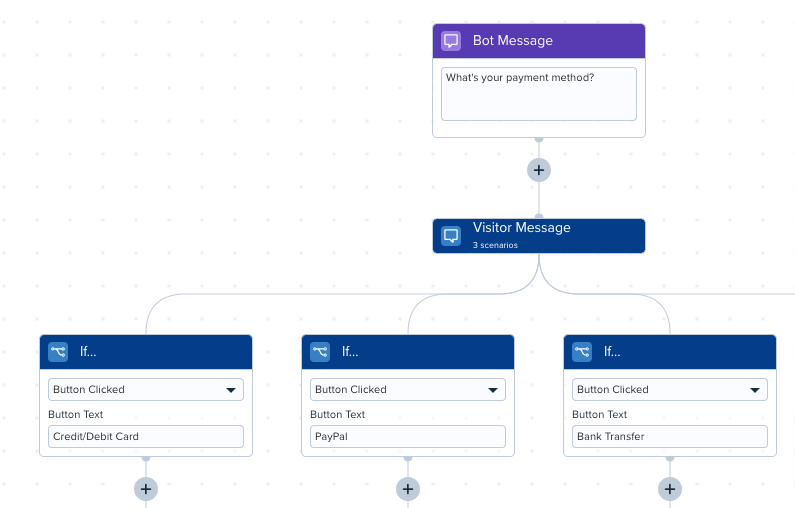 Visitor messages - prioritizing scenarios
Visitor Messages are used to design interactions between a visitor and a bot.
To maximize control in the dialogue flow, you can sort the priority of visitor scenarios. The priority of the scenarios goes from left to right, with the left side having the highest priority.
You can prioritize the scenarios in the drawer on the right. To easily navigate to it you can just press "Show all scenarios" like in the example below: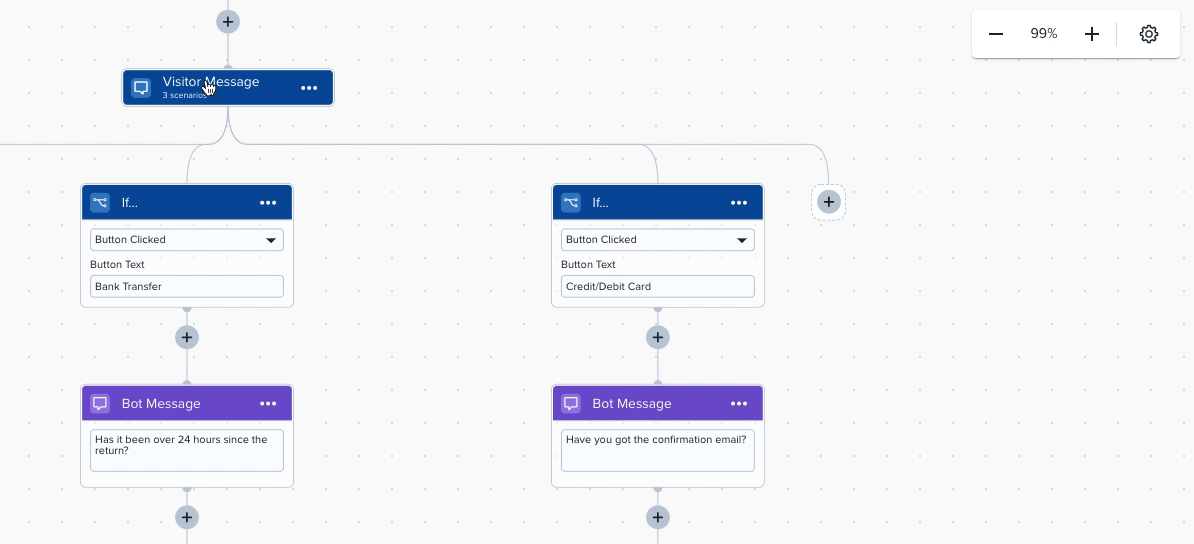 ℹ️ If your scenario has only one condition, for best bot recognition results, we recommend the following scenario order from left to right:
Entity > Intent > Button > Free Text
The priority of conditions in a scenario is not relevant as they are all leading customers through the same dialogue path.